Nurse Next Door Franchise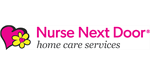 Nurse Next Door - Home Care Franchise
Territory Information
Location:

Ballarat
Total Investment:

From $125,000
Other Areas Available

Australia
Profile
Stand Out In The Home Care Industry
Known for their bold pink brand and bright pink cars, Nurse Next Door is a home care business that stands out amongst other home care companies. With the core purpose of Making Lives Better®, Nurse Next Door is passionate about making a difference and enriching the lives of the people they care for.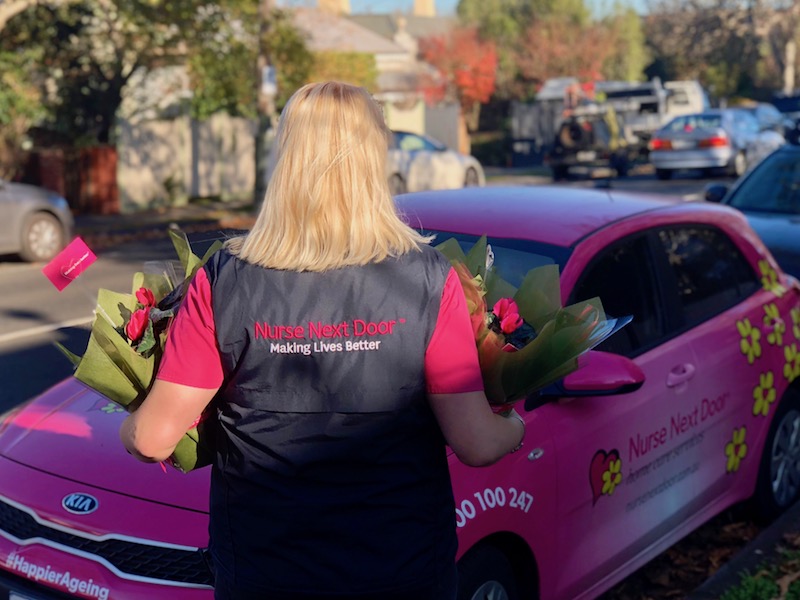 Encouraging a positive outlook through their philosophy of care that embraces Happier Ageing® and possibility, Nurse Next Door empowers older Australians and people living with a disability, to remain independent in their own home, on their own terms and keep living life to the fullest.
A thought leader in the home care industry, Nurse Next Door emphatically rejects the notion that people need to surrender their enjoyment of life because they need care.
Instead Nurse Next Door Franchise Partners seek out the possibilities for their clients, building care plans on the foundation of each individual's needs, desires and personality, arranging each care plan around the person instead of trying to plug the person into the package.
Disrupting Home Care Since 2001
Launched in 2001, Nurse Next Door founders John DeHart and Ken Sim set out to create a business that would do things differently, and better, disrupting a market that was, and often still is, task-based and sterile. With their commitment to Happier Ageing® and Making Lives Better® Nurse Next Door quickly gained an exceptional reputation in Canada and began franchising in 2007, now boasting over 200 locations across Canada and the USA.
In 2018, Nurse Next Door awarded Melbourne locals Amber Biesse and Matt Fitton the Australian Master Franchise licence. Having built and run several successful businesses, Nurse Next Door's core purpose of Making Lives Better® resonated deeply with the couple, who also recognised the enormous potential of a home care brand that combined this core purpose and its associated values with world-class processes and operational excellence, honed over years of best practice.
Under Matt and Amber's leadership, the corporately owned Melbourne location has quickly replicated the success of the brand in North America, with an increasing number of raving fans. 
Four Core Values
Every day, Nurse Next Door is guided by four core values. Not just buzzwords, they arise from years of reflection and soul-searching. They are the principles that define the business and inform everything they do at Nurse Next Door:
Admire People
Caregivers are an important part of our business and we ensure they are recognised for their work. We focus on our caregivers as much as our clients because we believe they're the backbone of our business. The work our caregivers do help us differentiate ourselves in the home care industry and live out Happier Ageing.
WOW customer experience
We don't settle for adequate. We don't settle for good. We  don't rest until we've delivered a customer experience that so exceeds our clients'  expectations that they get tears in their eyes and become what we call "raving fans," the kind  who lavish praise on us on the street, on Facebook, in the coffee shop, and to their family and  friends.
Find a Better Way
Like all franchise systems, we have a meticulously developed blueprint for running the business. But we're not so rigid that we prohibit our Franchise Partners and caregivers from finding a better way based on client needs and Franchise Partners' experiences. If a Franchise Partner sees a quicker and more efficient way to, say, balance the books, we're happy to listen and embrace the change if it works for the system as a whole.
Passionate About Making a Difference
Passion is our driver - it's why we are all here. Nurse Next Door looks for Franchise Partners and caregivers who genuinely care about what they're doing and want to improve their clients' lives.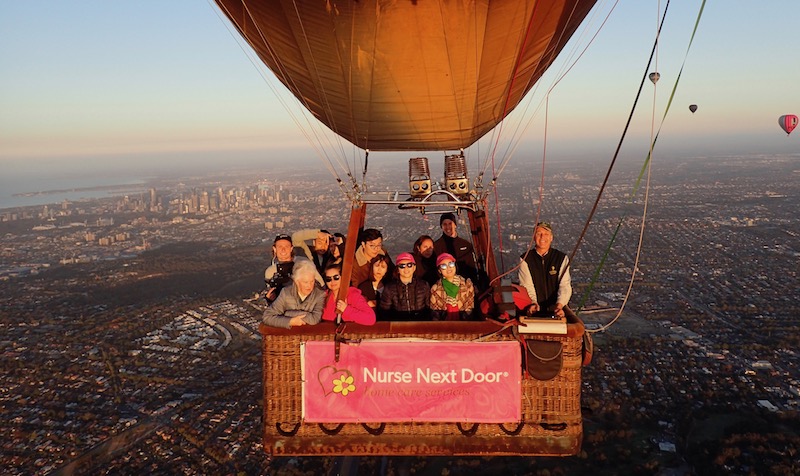 Ground-Breaking Support and Systems
Nurse Next Door offers Franchise Partners a 24/7 Care Services Platform - centralised scheduling and client support platform operating 365 days per year, 7 days a week, 24 hours a day. Designed to alleviate the administration duties of the Franchise Partner, the care services platform handles all calls, inquiries and client visits allowing the Franchise Partner to focus on building their business.
Other key advantages to becoming a Nurse Next Door Franchise Partner include:
An award-winning and widely-acknowledged culture that lives and breaths the core purpose of Making Lives Better®
Marketing systems geared towards helping you build relationships with the right influencers in your market
A recruiting program focused on finding and retaining a world-class team of caregivers - the heart of your business
Your own sales performance coach available as needed in the role of both coach and cheerleader
Partners of Nurse Next Door Australia will benefit not only from training and support from set up and beyond, but also from the substantial growth of Australia's ageing population both now and into the future. With forecasts projecting one in five Australians will be aged over 65 in the next 20 years and the NDIS giving people living with disabilities more choice and control over when, where and how they get the support they need, the home care market offers an unparalleled opportunity in the franchise industry.
The Investment
Low Initial Franchise investment - starting from $95,000 + working capital
Length of franchise agreement is 5 + 5 + 5
If you're looking for an opportunity that is Making Lives Better®, join us and build a home care business with heart.
News
15 July 2022

Nurse Next Door Puts Heart into Home CareDomini Stuart Research tells us the majority of Australians would rather receive support or care in their own home than in a facility. As the population continues to age, and with the expansion of the NDIS, this will create increasing demand for home ...
07 April 2020

As businesses around the world face the challenging times ahead, Nurse Next Door Home Care Services Franchise Partners are incredibly lucky to be playing a vital role in providing essential services to those who feel most vulnerable right now. Matt Fitton, Nurse Next Door's Master Franchisor ...
Videos
15 July 2022