Concept Building Solutions Franchise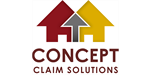 Concept Building Solutions - Insurance Claims Management Franchise
Project manage property insurance claims for accidents such as fires, floods, storm damage and other similar incidents.
Watch Video
Territory Information
Cheltenham
Franchise Fee:

£32,995 + VAT
Other Areas Available

Opportunities are available throughout the UK.
Profile
18 Years of proven results operating in one of the most recession proof industries available.
Flexible hours and high margins make our business model a tried and tested winning formula.
A service that is free of charge to our customers.
Probably one of the most supportive training and induction programs in the franchise industry has allowed our Franchisees, with no prior building or insurance experience and knowledge, to achieve six figure incomes.
Field support to assist with ongoing business development in your territory.
Concept Building Solutions is a claims management company, specialising in insurance claims and reinstatement property repairs. Concept project manage all works from start to finish, making things less stressful for customers. Concept helps individuals and businesses to restore their homes and premises when disaster strikes, our mission statement is:
'To best serve policyholders in their time of need through
exemplary customer service and high quality workmanship'.
Concept handles thousands of insurance claims, first assessing property damage and then preparing a work schedule and quotation. Concept then negotiates and settles the claim with the policy holder's insurance company or appointed loss adjustor. Each Concept Claims Manager typically uses a local contractor base to carry out all property repair works.
Concept Building Solutions has become the leading specialist in the industry providing an end to end solution for the management of full disaster recovery programs and national building repair and installation solutions.
THE CONCEPT BUILDING SOLUTIONS FRANCHISE OPPORTUNITY
Concept still has franchise territories available and are looking for suitable Franchisees to operate in these areas.
With Concept, you will benefit from:
An established brand that has been franchising for over 15 years
A dedicated territory exclusive to you for all directly advertised work
One of the most comprehensive training packages in the industry
A 6 week Launch Establishment Action Programme
A dedicated mentor from day 1 of your training with additional support from HQ based staff and field based surveyors with a wealth of knowledge in insurance and property repair
A business coach to assist you in developing your business in your territory
A comprehensive operations manual, best practice toolkit, corporate guidelines and marketing materials to help you operate the business with a dedicated marketing resource at HQ
FCA authorisation as an Appointed Representative
An in-house complete claim management system for scheduling and managing every aspect of a claim.
National and local territory websites focused on sales
An opportunity to undertake work for other parts of the Service Solutions Group
A library of promotional materials and online stationery production system
A multiple item operation pack allowing for a turnkey business model
INVESTMENT REQUIRED
The Concept Building Solutions franchise price is:
£32,995 + VAT (complete turnkey package contents available)
The total investment can often be funded through various bank franchise loans and overdraft facilities and low cost, unsecured new start loans schemes.
Due to continued success in acquiring new business, leading claims management company
Concept Building Solutions now need to recruit professional, focussed partners quickly for the
upcoming months.
FAQ
Do I need relevant experience in the sector?
No, because Concept Building Solutions provides an intense training programme and ongoing support to help you to successfully establish your business. All you need is the drive and enthusiasm for growing a successful business and making high returns.
Do I need to know how to run a business?
No, because you are "in business for yourself but not by yourself", we will provide comprehensive training covering all aspects of running your business.
We are looking for enthusiastic, motivated individuals with the ability to project manage and develop professional relationships.
Testimonials
Mark Goldsack is a new addition to the Concept Building Solutions franchise network but he has not let grass grow under his feet.  Concept, the highly successful franchise based on providing building claim management services to domestic policy holders has recently benefitted from one of its highest...
News
01 June 2017

Due to the continued success of our franchise network we need to recruit new professional members quickly over the coming summer months to meet business demands. We have steadily grown over the last 15 years developing a network of claims managers; in fact we are having one of our best growth year...
04 April 2014

We met with Andy Walmsley, Group Operations Director at Concept Building Solutions, to see what's new at Concept and why they have recently increased the price of their franchise.Concept Building Solutions is a franchise Network of over 160 territories each specialising in insurance claims managemen...
Videos
Alan Howell chats to Tino about Concept Building Solutions